Final Sale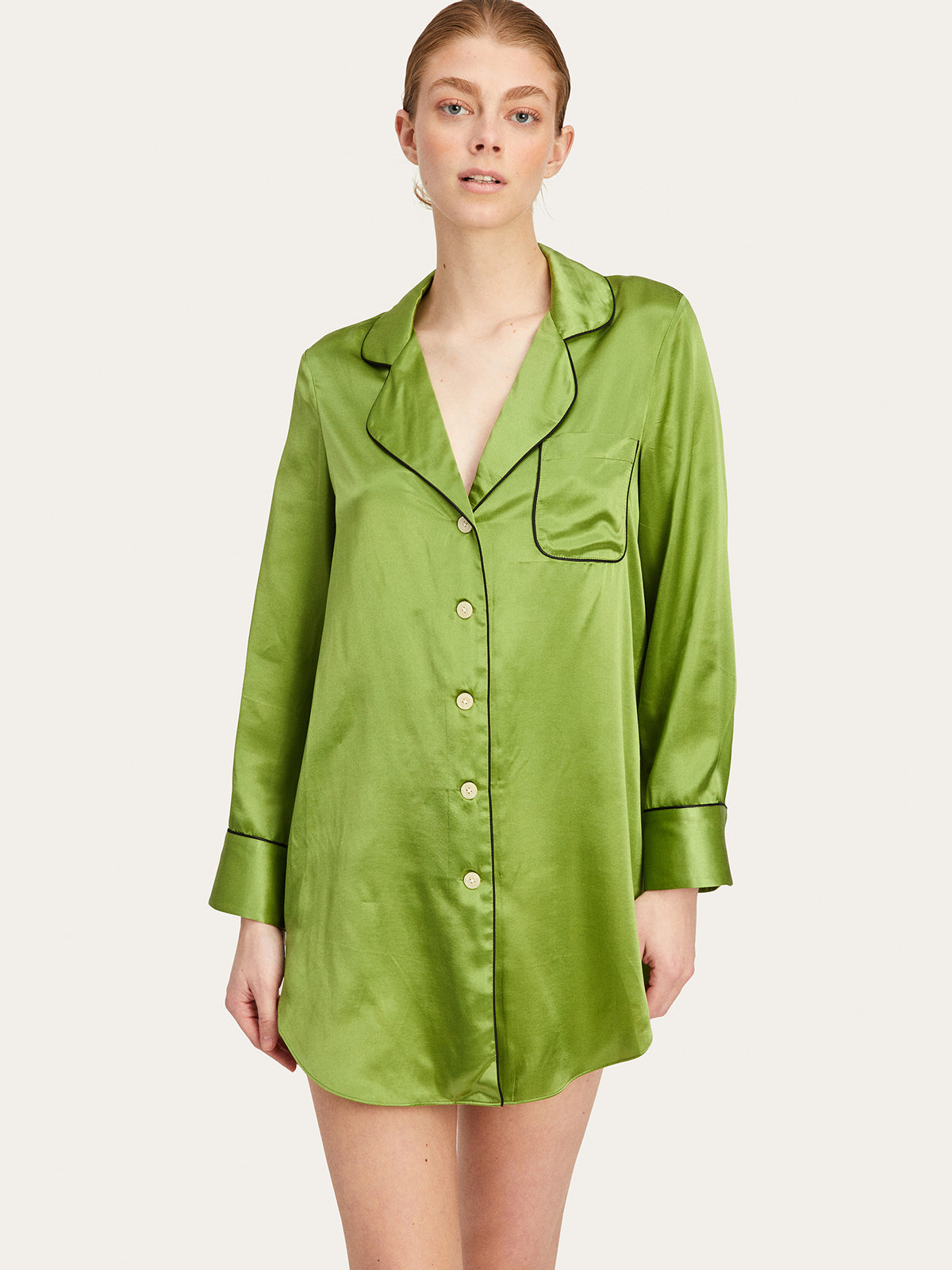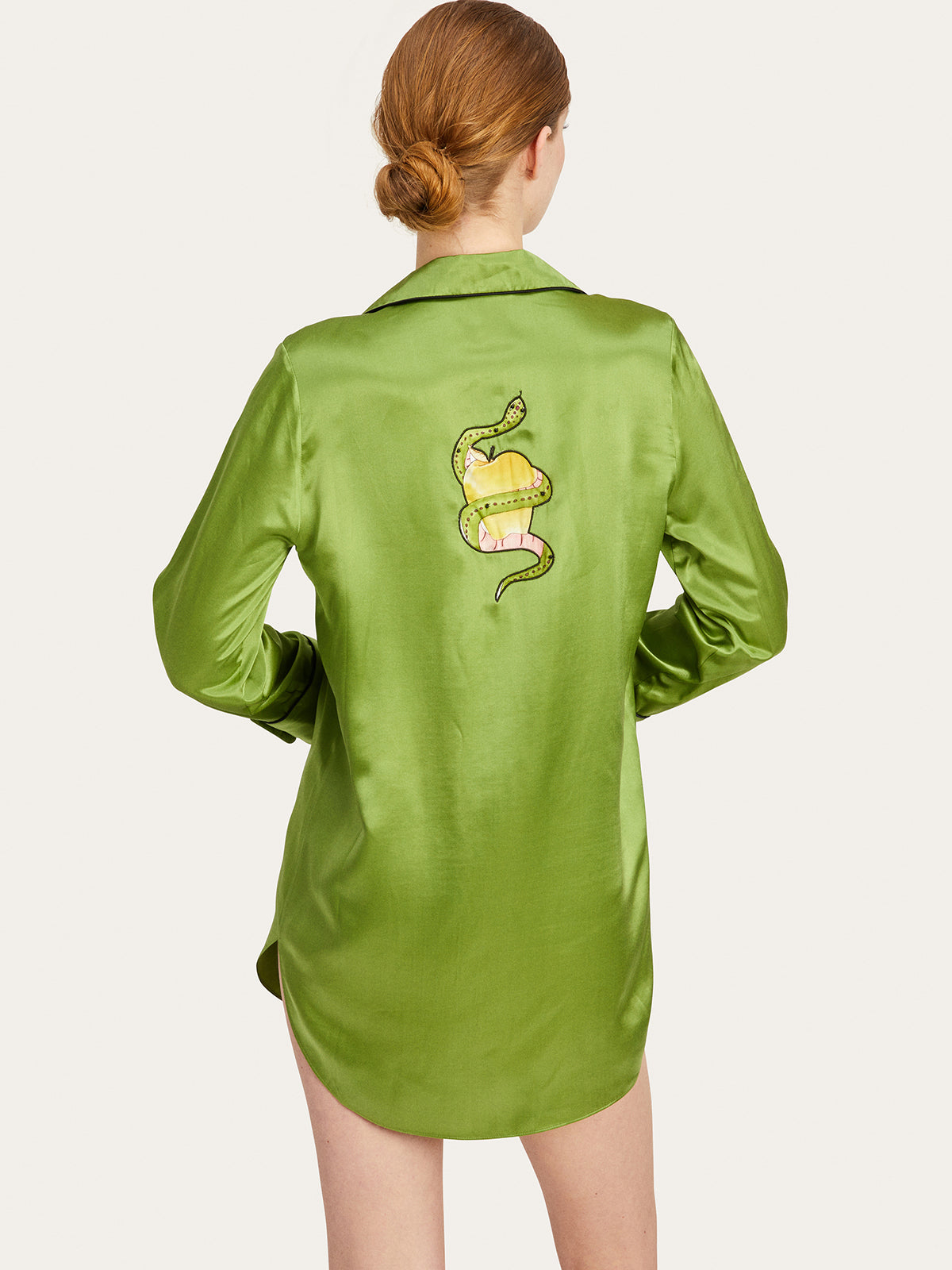 Stacy Night Shirt in Green Envy
What size am I?
Your wishlist has been temporarily saved. Please Log in to save it permanently.
Get notified via email when back in stock
Introducing our slightly shorter night shirt! The Stacy Night Shirt is made from a luxe silk viscose in green envy with contrast black piping. The back features a mystical printed Serpent wrapped around a Golden Apple. The Serpent is appliquéd and then beaded for exquisite detail. The oversized, yet slim fit is super flattering and the length is sexy yet modest. Wear as a blouse with jeans or to bed with cozy socks!
36% Silk 64% Viscose
Black Satin Contrast Binding
Printed, Embroidered, Appliquéd and Beaded Serpent wrapped around Golden Apple
Imitation Pearl Buttons
One Pocket
Dry Clean Only
Order Status
Your order information, history and delivery status will be accessible upon signing into your account. 
Upon checking out, you will receive an order confirmation via email and a second email once your order has shipped. To track your package please click on the link in the second email.
Shipping: all orders received will be shipping within 2-3 business days. The cut off for Overnight Orders shipping same-day is 2 p.m. EST. For all international orders please allow 10-15 business days for delivery. We do not ship on Saturdays, Sundays, or National Bank Holidays.
Embroidery: If you placed an order with Custom Embroidery, please allow 14 business days extra handling time for embroidery application.
Online Return Policy
Morgan Lane will accept items for return and refund or exchange within 14 days upon meeting policy requirements. These requirements are to avoid personally damaged or used products.
International Returns: We are unable to provide shipping labels for international returns. All shipments for international returns are the customer's responsibility.
The item(s) must be returned in its original condition and packaging. Please keep in mind when opening your purchase. If gift packaging is damaged, additional fees may apply. 
Lingerie bottoms including panties, thongs, and bodysuits MUST be tried on with panties. Failure to do so will result in final sale. 
Wash products are accepted for return if there is a problem with or damage on the bottle. Used or opened products are not accepted.
Cosmetics will not be accepted for return or exchange. 
Eye Masks and Face Masks will not be accepted for return or exchange.
Sale Lingerie items will not be accepted for return or exchange. 
Sale items will only be accept for return or exchange up to 50% mark down, once marked down more than 50% off the item is final sale. 
Customized items will not be accepted for return or exchange without appearance of a clear internal defect.
Return Instructions

Email info@morgan-lane.com for a return label.
Affix provided label to the outside of the box.
Drop off at the nearest shipping location or schedule a pick up.
Once your return is received, please allow 7-10 business days for the return to appear on your credit card statement.
Gift Returns
If you have received a gift and would like to return it, please email info@morgan-lane.com for return authorization